Sport Clips Haircuts founder and CEO Honored with 2015 Vetrepreneur® of the Year
Sport Clips would not have achieved the success it has without the leadership and innovative spirit of Gordon Logan. As a company, we are proud to share his achievement as 2015 Vetrepreneur® of the Year and look forward to the further growth and success of the company.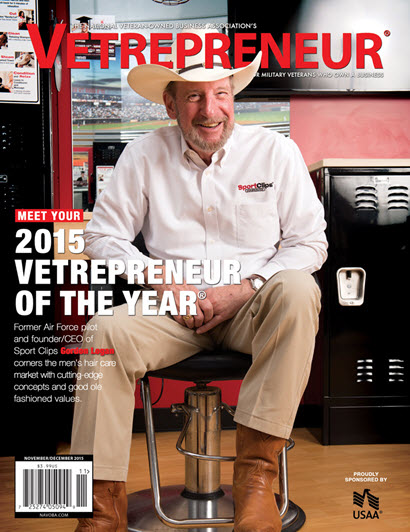 Gordon received the 2015 Vetrepreneur of the Year award from Maria Contreras-Sweet, the U.S. Small Business Administrator, on November 16th at Heinz Field in Pittsburgh at the beginning of the annual National Veterans Small Business Engagement conference. From 1969 to 1974, Gordon served in the United States Air Force. From 1974 to 1976, he was part of the Air Force Reserve. His education was completed at the Massachusetts Institute of Technology and then continued at The Wharton School of the University of Pennsylvania, where he earned his MBA.
The concept of Sport Clips arose out of an employee embezzlement problem that Mr. Logan and his wife, Bettye, had run into while trying to open three different salons. Instead of catering to every hair cutting demographic, they decided to focus a salon specifically on men and boys and provide them with affordable haircuts in an enjoyable sports-themed environment. This branding was a hit and the company grew exponentially since its beginnings in 1993.
Currently, Sport Clips has over 1,400 stores in all 50 states and Canada, and is still on an upwards trajectory. The Logans' idea to provide more than just a haircut, but rather an experience, proved successful.
For more on Gordon Logan, take a look at the November/December issue of Vetrepreneur® magazine.